Martinique offers signature attractions & experiences, such as:
Abundant marine life
Historic shipwrecks and healthy reefs
Rich and diverse flora and fauna
World-class dive sites
The highlight is Diamond Rock, an offshore island with a deep undersea cavern.
Divers of all experience levels can easily explore Martinique's magical coral reefs and abundant sea life while enjoying water temperatures of 80 to 86 degrees and excellent visibility. The island is also the perfect destination for family diving, with activities available for all ages. Dive in total safety: all sanitary facilities and medical services meet European standards. Instructors are fully certified, and a hyperbaric chamber is available in case of accidents.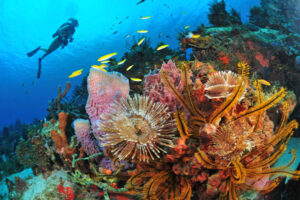 Diving – Plongée Martinique © R. Pakiela
Martinique's Diamond Rock is a signature site
The island's most popular dive spot starts at a cave known as "La Piscine": from there, look for a massive vertical rift in the rock with rays of light shining through. You'll spot crawfish and rock lobsters in this spectacular setting, one of the most beautiful dive sites in the world.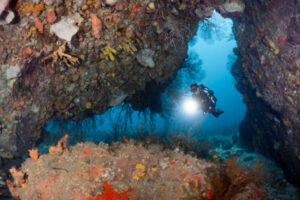 Diamond Rock-Rocher Diamant © V. Gilles-Lagrange Plongée Immersion Caraïbes
Dive into Martinique's rich history
When Mount Pelée erupted in 1902, the city of Saint-Pierre and its harbor were destroyed—but this devastating event has since transformed the area into one of the most rewarding dive destinations in the Caribbean. Eleven turn-of-the-century ships rest at depths ranging from
50 to 265 feet, offering novice and experienced divers a glimpse into Martinique's rich history.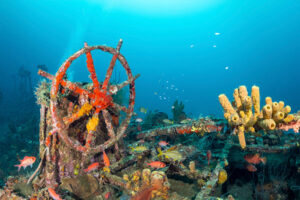 The wrecks of Saint-Pierre-Les épaves de Saint-Pierre © V. Gilles-Lagrange Plongée Immersion Caraïbes
An exclusive snorkeling experience
The town of Anses-d'Arlet, along the Caribbean coast, is the best place in Martinique for snorkeling and seeing green sea turtles. Almost all the snorkeling spots on the island are freely accessible from the shore. No two sites are alike, but what they do have in common is excellent
visibility and water temperatures of 80 to 86 degrees.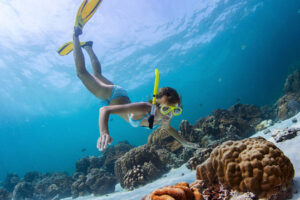 Snorkeling-Plongée apnée Martinique © AdobeStock

Mermaids in Saint-Pierre
Shipwrecks aren't the only underwater wonders you'll see in the bay of
Saint-Pierre. Artist Laurent Valère, who also created the statues of
the Anse Caffard Slave Memorial in the south, has installed two massive
sculptures on the sea floor about 160 feet from the coast. Known
as Manman Dlo and Yemaya, the sculptures represent mermaids
partially submerged in the sand, intended as an homage to the sea and
a call to protect marine life.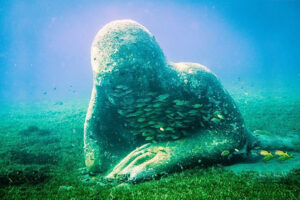 Mermaids-Laurent Valère